Video capture and effects
PixelConduit can capture live video from multiple video sources simultaneously. Consumer or professional equipment are equally well supported. A special interface is built-in for BlackMagic Design hardware so you can access advanced features like dual-stream 3D video capture. PixelConduit also includes precise analysis tools like vectorscopes, pixel slice tool and colorspace visualization.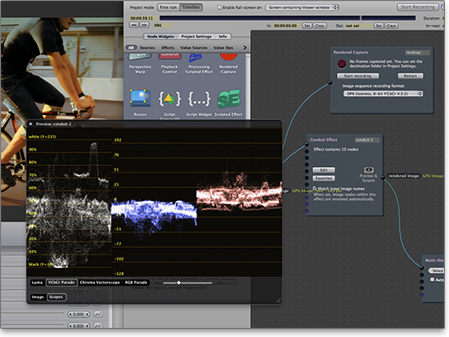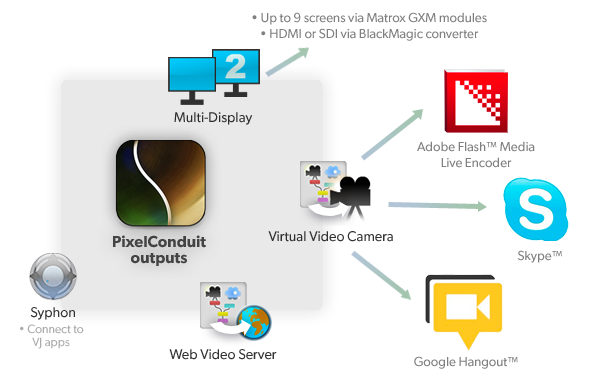 Extensible without limits
Compositing tasks often require some kind of graphics to be rendered. This can be as simple as printing out a timecode to be "burned" into the video, or as complex as drawing and animating vector objects on multiple layers… PixelConduit can take on any rendering task with support for accelerated 3D and 2D with high-quality text and vector graphics rendering. What's more, it's really easy to learn: the 2D graphics interface implements the Canvas part of the HTML5 standard and other parts of the PixelConduit API follow this "web-style" model.
PixelConduit is a hybrid graphics system: you can create custom realtime graphics and animations using either node-based graphical interfaces or JavaScript programming, and these two models can be combined seamlessly. Details (PDF) →
Your effects work in Apple
and Adobe apps too
The Conduit Effect System is also available as a set of free plugins for a popular video and graphics apps: Final Cut Pro, Motion, After Effects, Photoshop and Aperture.
With these plugins, you can design effects in any app and deploy them as filters everywhere!
Output anywhere
It's easy to display and deliver your video streams from PixelConduit. Multi-Display with Matrox GXM support allows multiple video outputs even from a laptop. HD-SDI support is accomplished with e.g. BlackMagic Mini Converter boxes. The included Web Video Server can be used to view streams in any browser even without Flash.
The Video Link add-on completes the picture with two output options:
Virtual Video Camera makes PixelConduit look like a video camera to any app, including Skype™ and Flash™ Media Encoder.
Syphon enables realtime frame I/O to advanced VJ apps.